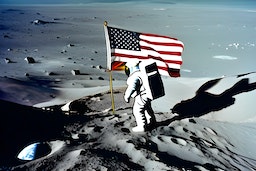 The U.S. Outlines Scientific and Technological Vision for Cislunar Frontier
2023-11-20 21:9:12 Author: hackernoon.com(查看原文) 阅读量:1 收藏
---
Too Long; Didn't Read
The United States lays out a strategic approach for the critical decade ahead, defining its leadership role in the exploration of Cislunar space, including the Lunar surface. Anticipating a surge in human activities driven by technological advancements and global interest, the U.S. government emphasizes responsible, peaceful, and sustainable exploration. With four key objectives spanning research and development, international cooperation, space situational awareness, and advanced communication technologies, the vision aims to foster a new era of discovery, economic development, and global collaboration in Cislunar space.
---
The White House
---
The White House is the official residence and workplace of the president of the United States.
---
Receive Stories from @whitehouse
L O A D I N G
. . . comments & more!

文章来源: https://hackernoon.com/the-us-outlines-scientific-and-technological-vision-for-cislunar-frontier?source=rss
如有侵权请联系:admin#unsafe.sh